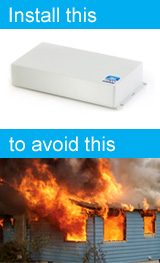 2006 65% of 'P' labs found by Police located in rental properties – 2009 this number increased to 75%!
Properties used as "P" labs remain hazardous until professionally decontaminated at costs running into the tens of thousands
Properties identified as 'P' -Labs lose thousands in value
Insurance will not cover

loss of property value

,

or provide personal protection
Best practice property management cannot protect you from key risks associated with meth cooks
People's lives change and 'good' tenants do turn bad – coercion of existing tenants is common
Proactively managing meth lab risk offers opportunities to improve your return on investment
Sources: National Drug Intelligence Bureau, NZ Herald, Department of Building and Housing
The solution:
Meth Minder monitoring system
Helps attract law abiding

tenants

who want a safe place to live and are prepared to pay more to live there – while protecting your investment and the neighbourhood.
You are exposed to this risk!
Do not become another victim!
Call 0800 638 464 to discuss your options.