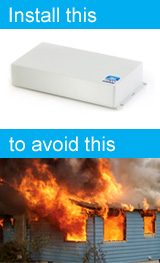 Why you need to act now!
Hotels and Motels are prime targets for meth cooks
Proactively managing meth lab risk offers real opportunities to increase revenue
Cooking meth is quick and takes very little equipment
Methlabs can be concealed in suitcases
The fumes and residues produced when "P" or meth is cooked are highly toxic – presenting risks to staff and patrons
Units or rooms used as "P" labs and those adjacent to them cannot be used until professionally decontaminated
Costs and losses can run into the tens of thousands
Use as a 'P' lab gets put on the property's LIM  – devaluing your business
Smart operators will make meth testing a condition of purchase
Insurance will not cover loss of property value, damage to neighbouring units or rooms, or provide personal protection
Sources: National Drug Intelligence Bureau, NZ Herald, Department of Building and Housing
The solution:
Meth
Minder monitoring system
Silently protects, 24/7, from less than $1 per day – a small price to pay for peace of mind. Contact us to discuss pricing
The best deterrent on the market
Proactively managing meth lab risk will attract law abiding guests who are concerned about meth contamination
Once people are aware everybody is concerned about meth contamination
Smart operators make all patrons aware of the risks of meth contmaination allowing them to increase occupancy rates and income
You are exposed to this risk!
Take advantage of the opportunities do not become another victim!
Call
0800 638 464

to discuss your options.